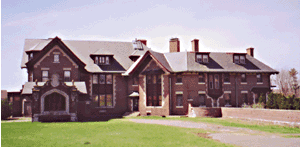 Campion Hall was built in 1906 for George E. Kunhardt, a wealthy Lawrence, Massachusetts mill owner. Designed by renowned Boston Architect Stephen Codman, the 21,000 square foot mansion, two story guest house and cabana are primarily Queen Ann style, with added details from historic buildings in Germany.
From the attractive porte-cochere at the main entrance, to the exquisitely-detailed staircases, to the fifteen fireplace mantles, this property is unique. Steeply pitched roofs with countless gables are covered with slate. The exterior walls are covered with red brick, limestone, and wood trim. Today, much work needs to be done to restore this wonderful property as vandals and the ravages of weather have taken their toll.
Earlier this year the project received final approval from the Town of North Andover for a condominium development of twenty-five units. There will also be one detached single family home. The Mansion will house eleven units, two in the guest house, and twelve 3 bedroom townhouse units arranged in three clusters on the grounds of the estate.
The condominium project has been designed to reflect the mansion theme with units in five different buildings: Mansion House, Garden House, Carriage House, Summer House and Centennial House. In addition to extensive landscaping, each townhouse cluster will feature unique architectural elements to set them apart. The Mansion units will be one-of-a-kind - each with a unique floorplan and character of its own. Some will feature dramatic 12 foot ceilings and massive fireplaces; others, views of tranquil Lake Cochichewick. One of the Carriage House units will even have its own, separate recreation room or home office in the former poolhouse.
Phase I which includes the renovation of Mansion and Carriage House and construction of the first cluster of townhomes, Garden House, began June 2005. We expect to deliver Garden and Carriage House units late 2005. As with all of our project, high-quality low-maintenance materials will be used on the exteriors, and all units will be built to Energy-Star standards.
Phase II will involve construction of the two clusters on the lower portion of the state, Centennial and Summer Houses. Construction is scheduled to begin on this phase in Fall 2005 and be completed in time for the mansionís centennial in 2006.
Selling prices for the units in the Mansion and Carriage House will range from about $420,000 to $550,000; the townhouses are expected to average over $600,000, and the stand-alone, single-family home is expected to sell for between $900,000 and $1 million. For more information contact Annie Perkins at ext. 104 or Diane Marcou at ext. 301.